Francecont
After a week in Paris we hopped on the TGV down to Avignon and stayed in a village called L'Isle Sur La Sorgue.
It's built over a little island that runs down the middle of a river and there's lots of cutesy little footbridges and and little mills and I didn't take any pictures at all there. We spent our brief time in Provence explorin' the hills! My impression of the town, besides obviously that it's lovely, was not so positive because they didn't want to feed me ever. Here's an image of the downtown area I found on Google to give you an idea.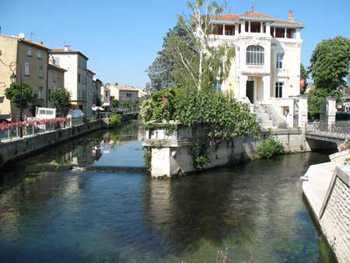 We drove a lot in Provence in search of some Alps. We got up into some nice craggy foothills but the French don't understand "hiking." If we'd made it to somewhere with a name (like the Verdon Gorge) then I think we would have found some trails, but instead we were surrounded by pretty landscape and nothing but an occasional picnic table on the side of the road. This is what we saw.
The next day we spent in Avignon proper before training down to Barcelona. These are inside the walled-in medieval city and mostly around the ANTIpope's pallace. There were so many street performers!