FOOD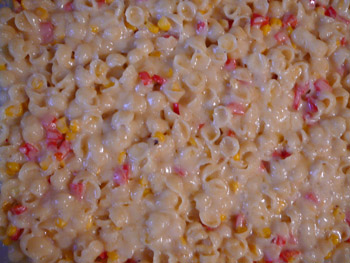 ANOTHER CHEESY CASSEROLE
Three different kinds of cheddar, pasta shells, corn, red bell peppers, sweet gypsy peppers, garlic and chipotle chutney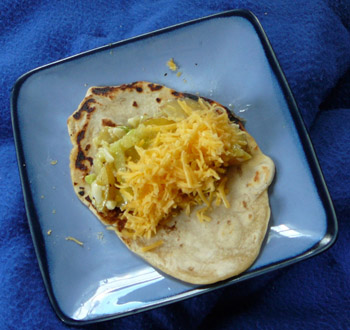 IAN'S BREAKFAST TACOS
Potatoes, sweet gypsy peppers, garlic and cheddar on homemade tortillas. Ian made everyone breakfast after a sleepover!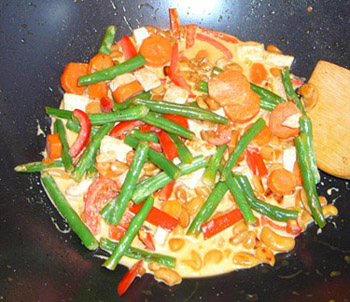 PANANG STIR-FRY
Green beans, carrots, red bell peppers, cashews and some tofu with coconut milk, lime and panang curry paste, served over brown rice. Pretty mellow flavor but tasty.
LEMONLICIOUS AIDE
Brown again because of the un-bleached raw cane sugar, but super tasty!
CLOVETASTIC APPLE-PIE
I don't have a rolling pin so I cheated with already-made dough for the crust. There were three different kinds of apple in there and a heck of a lot of cinnamon and clove–see how brown it is!
MOST AMAZING APPLE SAUCE
Only brown sugar, cinnamon and a dash of clove in there. Mmmm. . .so lumpy!
TUBES 'N' CHEESE
This started as an attempt at ripping off Beecher's presumably awesome (I've never bought any because I can't bring myself to pay that much for such a low-brow dish) "World's Best Mac & Cheese" mainly because we had a block of Flagship lying around. But I had to put in some extra sharp cheddar, garlic, and pine-nuts because the CSA had given us yet another bulb of their super strong garlic and I'm always a sucker for throwing in nuts and too much cheese. It was really tasty, but I'd like to at least try making the puritan version sometime.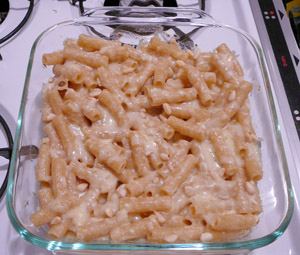 CRISPER DRAWER SOUP
This was so much fun to make and it helped use up a bunch of vegetables from our first box. There's broccoli, carrots, corn, tomato, green and red bell peppers, celery, some chard (hehe!), black beans, rainbow radiatore and a heavy-on-the-rosemary tomato-based vegetable broth. I call it a soup because that was my intention, but honestly it was more stew-like. It was yummy but extremely heavy.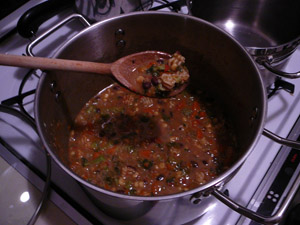 MYSTERY CITRUS ELIXIR
This started as basic orange juice but apparently I had a few variations of oranges in the produce basket. I know there were some Valencias, some Tangelos, one Naval, one tangerine, and then three somethings I couldn't identify. They were small like a large tangerine, had a very bright light orange peel, and the inside looked. . .kind of like a ruby grapefruit? The taste is similar to a blood orange, but they weren't "bloody" enough for that to be it. I wish I knew what they were because they made this juice SUPER delicious.